Recently Redskins Gab was asked to submit their pick for a Mock Draft over at Phins Phocus, and to tell you the truth the choice has become more and more obvious with each day that passes.  Given that Rex Grossman and Larry Johnson were just signed — the most obvious need for the Redskins is still on the Offensive Line. Guard Will Montgomery was re-signed last week, but by all accounts Tackle Chris Samuels is still retired.
So…. without further delay, the Washington Redskins with the 4th overall pick of the 2010 NFL draft select:
Russell Okung, Oklahoma State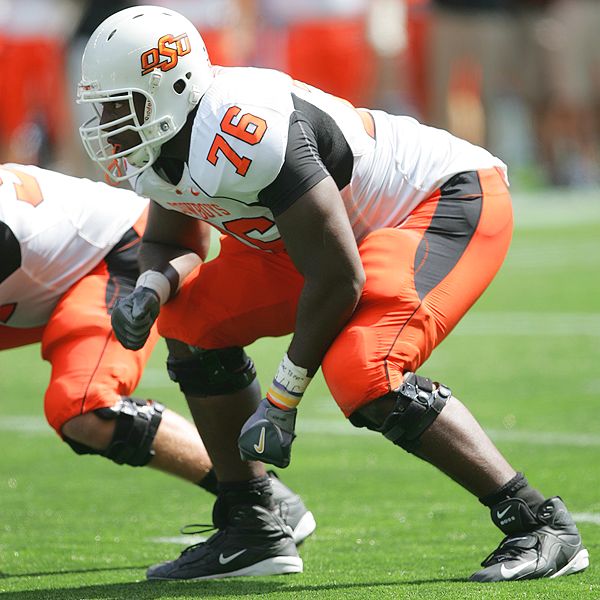 Expect anything different?  You shouldn't – and here's why:
Russell Okung, Oklahoma State
Height: 6-5. Weight: 310.
Projected 40 Time: 5.22.
Combine 40 Time: 5.17.
Pro Day 40 Time: DNP.
Benchx225: 38. Arm: 36.
Projected Round (2010): Top 5 Pick.
[via Walter Football]
–
Strengths:
Very good height with long arms
Thick, strong lower body
Extremely high level of athleticism
Patient pass protector; does not overextend
Great lateral agility
Quick kick step
Consistent footwork
Nice ankle/knee flexion
Surprisingly physical run blocker
Light on his feet
Highly experienced since true freshman year
Very durable – 34 straight starts
Understands angles
Recognizes stunts and blitz assignments
Gets to second level
Leader
Tremendous upside
Week 1 starting left tackle
Franchise player
Potential No. 1 overall pick
Weaknesses:
Occasionally gets too high in his stance
Needs to gain a little more upper body strength
Sometimes loses focus (bored with competition?)
Can be inconsistent with leverage
Room to improve hand punch
Must redirect at a higher level in NFLSummary: I noticed Okung last summer when watching tape on Brandon Pettigrew and I pegged him as a potential star in 2008. He has all the makings of a Pro Bowl-caliber left tackle and has the upside to potentially warrant a No. 1 overall pick. If he can hone his technique slightly over the summer, I would be shocked to see him fall out of the first five picks next year barring injury. Okung has practically everything you look for in an offensive tackle. Last name pronounced OH-KOONG.

Player Comparison: Joe Thomas. Thomas and Okung have very similar frames with very good intangibles and the upside to dominate at the next level. Both had polished pass protection skills in college.
–
[pro-player width='467′ height='353′ type='video']http://www.youtube.com/watch?v=wXDU0dL3BhU[/pro-player]
| | |
| --- | --- |
| Scout: | Matt Miller |
| | |
| Height/Weight | 6?5?/302lbs |
| 40 Time | N/A |
| | |
| Ideal System: | Man blocking scheme |
| Pro Potential: | D'Brickashaw Ferguson |
| | |
| | |
| Position Traits: | |
| Agility | An agile player who moves well on the field. Can get to every angle and the second level. Will not struggle against speed rushers due to his ability to take smart angles. |
| Movement | Is not asked to pull or trap much. Plays in a man scheme where he does not come down the line often. Does show the footwork to do well in this offense. Gets to linebackers well at the second level. Moves well inside and out when mirroring. Will not be a liablity against inside blitzes. Can move to protect his gap. |
| Pass Blocking | Looks like an elite prospect in pass-pro. Has good height and reach. A quick bucket step. Able to kick slide to the edge quickly. Has a quick get up. Chops his feet well when mirroring pass rusher. Consistent at cutting off the edge and moving back inside to cut off spin moves. Cuts effectively and quickly. No hesitation. Doesn't have an elite punch, but it does show potential. Inconsistent against power rushers at anchor. Comes out too high at times and can get blown back. Can take over a game and dominate the defense's best rusher. |
| Quickness | Does not have elite foot speed compared to previous top prospects. Does have great size and athleticism. |
| Run Blocking | Is a much better pass blocker than run blocker. Falls in to bad habits of leaning forward and lunging at defenders. Needs more balance. Is not strong or menacing as a drive blocker. Looks for kill shot too often. Does move his legs well throughout contact. Doesn't quit on a play. Does a great job of engaging defender, but needs work on driving and pad height. Pushes defender will right or left to make running lanes. Uses angles more than muscle. Gets to the second level well- thanks to his agility and quickness. |
| Strength | Is not phenomenally strong. Needs work, but has the body type to add muscle. Is very lean at 302lbs. Will benefit from a NFL workout regiment. Shows enough strength to latch and move, but is not a drive blocker at the point of attack. |
| Technique | Comes out too high at times in pass-pro and run blocking. Leans over his knees too often. Is not a puncher, but can dominate in close quarters or when latched on to the defender. A beautiful kick slide and bucket step. |
| Versatility | Is somewhat one-dimensional and can be viewed as a finesse player. Shows some intrigue as a guard prospect, but may not be strong enough for the position. Is strictly a blind-side protector. |
[ via New Era Scouting ]